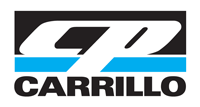 CP Standard Features:
Anti Detonation Grooves – Anti Detonation Grooves (Contact Reduction Grooves) are grooves that protect the top ring by disrupting detonation waves. Also known as contact reduction grooves, these grooves limit the piston/cylinder contact during high temperature and RPM.
Accumulator Groove – Accumulator Groove is a V-shaped groove machined in the 2nd ring land to collect excess blowby between the top and second ring. This groove collects residual gasses during combustion and alleviates top ring flutter while increasing ring seal.
Double Pin Oilers – Double Pin Oilers in conjunction with our dual fed reservoir add twice the amount of oil from the cylinder wall to the wrist pin.
X-Forgings – X-Forgings are designed to minimize friction and reduce weight without compromising strength. With the useof bracing and ribs, the forging is configured by adjusting the weightbalance between high and low stress areas. This design enables the use of a shorter pin for added strength and weight savings.
Radiused Domes – Radiused Domes are used to maximize quench while eliminating possible hot spots that promote detonation.sdf
Suzuki GSX1300R Hayabusa 99-07
Std Bore: 81mm
Piston
Kit #
Disp.
Bore
Size
Over
Size
Comp Ratio
Ring #
Pin #
Lock #
M4008A
1299cc
81mm
STD
9.5 Turbo
CPNG-2-3189 Rail 3189
787-2250-16CP1C
787-050-SWL
M4034

1299cc

81mm

STD

12.5:1

CPNG-2-3189
787-2000-12-CP1C

787-050-SWL

M4002
1363cc
83mm
+2mm
12.5:1
CPNG-2-3268
787-2000-12-CP1C
787-050-SWL
M4003
1363cc
83mm
+2mm
14:1 Gas Ports
CPNG-2-3268
787-2000-12-CP1C
787-050-SWL
M4004B
1397cc
84mm
+3mm
12.5:1
CPNG-2-3307
787-2000-12-CP1C
787-050-SWL
M4004A
1397cc
84mm
+3mm
12.5:1 Heavy Duty
CPNG-2-3307
787-2000-12-CP1C
787-050-SWL
M4005
1397cc
84mm
+3mm
14:1 Gas Ports
CPN 3307
787-2000-12-CP1C
787-050-SWL
M4006
1430cc
85mm
+4mm
12.75:1
CPN 3347
787-2000-12-CP1C
787-050-SWL
M4007
1430cc
85mm
+4mm
14.5:1 Gas Ports
CPN 3347
787-2000-12-CP1C
787-050-SWL
Suzuki GSX1300R Hayabusa 08-13
Std Bore: 81mm
Piston
Kit #
Disp.
Bore
Size
Over
Size
Comp Ratio
Ring #
Pin #
Lock #
M4030
1340cc
81mm
STD
9.5:1 Turbo
CPNG-2-3189 Rail 3189
708-2250-15CP1C
708-050-SWL
M4031
1340cc
81mm
STD
13.5:1
CPNG-2-3189
708-2000-12CP1C
708-050-SWL
M4032
1441cc
84mm
+3mm
13.25:1
CPNG-3307
708-2000-12CP1C
708-050-SWL
M4032A
1441cc
84mm
+3mm
13.25:1 Heavy Duty
CPNG-2-3307
708-2000-12CP1C
708-050-SWL
M4039
1441cc
84mm
+3mm
14:1 Gas Ports
CPN 3307
708-2000-12CP1C
708-050-SWL
M4040
1476cc
85mm
+4mm
13.25:1
CPN 3347
708-2000-12CP1C
708-050-SWL
M4033
1476cc
85mm
+4mm
14:1 Gas Ports
CPN 3347
708-2000-12CP1C
708-050-SWL